Gareloch One Design Class - 26th to 28th May - FKY Team Racing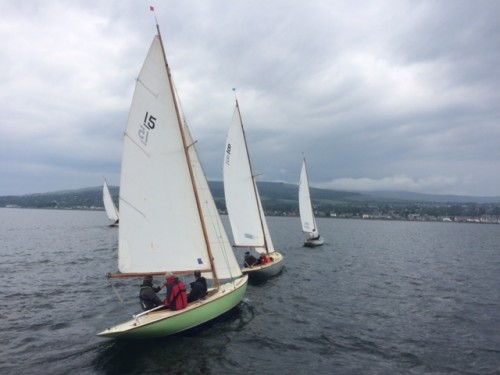 Helensburgh townsfolk boarding the Waverley or walking the promenade on Saturday 27th May would have been treated to a special sight, as the local Gareloch One Design fleet was racing just off the Helensburgh pier. Just 16 of these classic sailing yachts were built in 1924 at McGruer's yard in Clynder, and on Saturday, 8 of them were out racing. All 16 of the original Garelochs can still be found at the Royal Northern and Clyde Yacht Club.
Every other year since 1999, the Gareloch owners host members of the German Classic Yacht Club, Freundenskreis Klassiche Yachten ( FKY) to a team race in local waters. This year, the two teams contested the match during an exciting day on the water. It was a highly competitive match. The first of seven races was won by the visiting yachtsmen. By the end of the seven races sailed during the course of the day, the home team had squeaked out a win by the skin of their teeth, with our Helensburgh and Rhu skippers besting their visitors 4 races to 3. Following their dinner at the Rosslea Hotel on Saturday, further racing was held in the Gareloch and around the Sugar Boat on Sunday. Local yachtsman, Tim Henderson, who skippered Blue Iris, the Committee Vessel, on the day, described it as the best racing the club has had with FKY in the history of the competition. Next year the Gareloch sailors will head to Germany to visit their guests and continue the annual challenge series.
Wells Grogan, Race Officer, drew attention in his speech at the prize giving dinner to the boats being well matched. No boat was consistently at the front or at the back.
Text and photo by Race Officer, Wells Grogan
.



Garelochs racing